MEXICO CITY

Mexico City is a land of interesting clash of cultures. This capital city of Mexico came into existence after the Spanish invaders destroyed the then prevalent old Aztec city of Tenoctitlan and rebuilt it in an effort to erase the Indian past completely. But many ancient structures survived the wrath of time and nature and till today they stand proudly amidst modern day swanky hotels and buildings of Mexico City. The ancient Aztec temple of Templo Mayor, the grotesque Spanish-era Metropolitan Cathedral, the recent Palacio Nacional, all jostle for space in the city square of Zocalo and vie for attention.
Mexico City is a true capital in every sense of word. The city is situated on the central high plateaus of Mexico and is closely guarded by dormant volcanic mountain ranges. In local Mexican dialect it is also known as la Ciudad de los Palacios or "the City of Palaces" and la Ciudad de la Esperanza, or "The City of Hope". The metropolitan perimeters of Mexico City provides accommodation to nearly 20 million people and thus ranks as the fourth most populous city in the world. The political and social importance of the city is further enhanced by the fact that it houses the seat of the federal government and the local government of Mexico City at a time.
Visitors to Mexico City can regale the huge collection of museums and entertainment opportunities it has to offer. There are over two thousand historical buildings in the city, much of which are now transformed to luxurious hotels and often lent as apartments for rent. The National Art Museum, the Anthropology Museum, the Rufino Tamayo and Diego Rivera museums are only few notable among the plethora of places of interest in Mexico City. Tourists can get easy access to all the interesting places from the threshold of the bed and breakfasts and hostels they are staying by availing the large-spread network of the Sistema de Transporte Colectivo Metro, or simply, Metro of Mexico City.
Bellas Artes Palace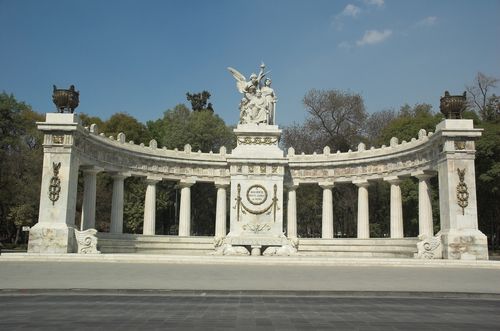 Monument to Benito Juarez