VALLETTA


Valletta is a unique European city that precariously nestles its ancestral possessions amidst urbane settings. That justifies the cities previous name of Humillima Civitas which means a city bound to humility. But later on the houses, the elegance of its baroque buildings situated beside the streets, soon provoked travelers to give Valletta another name. It was named Superbissima, which means superb. Today, Valletta is the capital city of Malta.
Valletta possesses two natural harbours, which are Marsamxett and the Grand Harbour. It is considered as Malta's major port city. Valletta was established by the Grandmaster of the Order of Saint John, Jean de Vallette, on 28 March 1566. The city's magnificent architecture and gigantic structures reflect the crativity and genius of Francesco Lapparelli and Gerolamo Cassar. From the 16th century onwards, most of the significant buildings were built during the time of the Knights of St. John of Jerusalem. Visitors worldwide are keener to view these wonderful buildings while visiting Valletta, enjoying excellent accommodation in hotels, hostels and bread and breakfasts situated near by.
Unfortunately many architectural marvels of this period were destroyed during air raids of World War II. Among the major loses feature the magnificent Opera House, which was constructed at the city entrance in the 19th century.
The population of Valletta has decreased quite a lot in the past few decades. This was triggered after World War II as new development in nearby suburbs marked a gradual shift of the population away from Valletta.
Many cultural events add colour to the life of the people of Valletta. The feasts of Saint Paul are celebrated in Valletta on the 10th of February, while the feasts of Saint Dominic, Saint Augustine and Our Lady of Mount Carmel are celebrated throughout the year with great devotion. A procession of St. Rita is also observed during this time. Tourists housed in hotels, in available apartments for rent can also take advantage of Valletta's excellent transport facilities. It is expected to become a traffic free zone in 2006.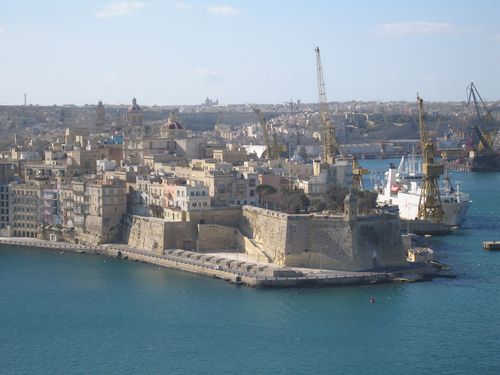 Valletta Sea Front