Laos has come forth as a tourism hub with its engrossing collection of serene landscapes, mighty rivers, remote forests and ancient architectures. It is a land of magnificent natural sight, beautiful sceneries, diverse cultures, intriguing history and villages unchanged for centuries. Situated in Southeast Asia, Laos is one of those blessed countries that come to life with flows from the Mekong River. Due to the tropical climates and its corresponding heavy rainfalls, this country is home to dense forests that sprawl from plain to the mountain slopes. As a result, 21% of Cambodia's land area has been dedicated to the National Biodiversity Conservation Areas where you can find striped or Annamite rabbit, the saola and the Laotian rock rat.
Pha That Luang in Vientiane
The Lan Xang kingdom was established in fourteenth century and marked the beginning of a prospective phase of Laos. In 18th century it spilt into three principalities and went under Siamese rule. Cambodia became a French protectorate in 1893 and gained full independence within the French Union in 1950. Nowadays it is recognised as the Lao People's Democratic Republic and is enlisted as an active member of ASEAN. The national musical instrument of Cambodia is known as the khaen that has prehistoric origins and is made from bamboo pipe.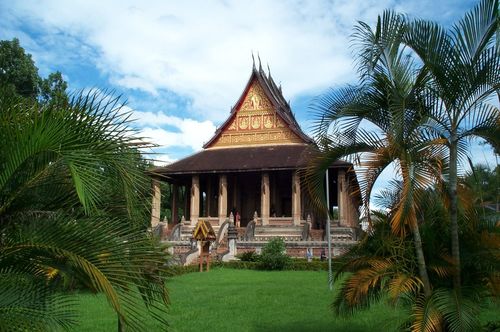 A buddhist temple in Vientiane