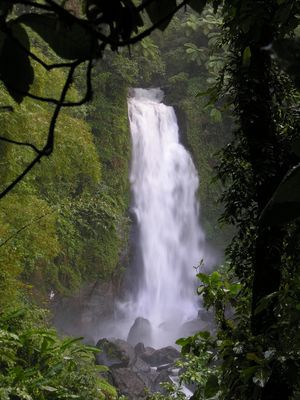 One of the Trafalgar Falls
Dominica is one of those few exclusive places on earth where you can view the spectre of a boiling lake. This unique island is the place where rolling waves gently crash into the soft coastlines and winding roads lead to rocky passes, hidden coves and lush rainforests. Due to its paramount natural beauty and strategic location near French territories, Dominica is also often referred to as "The Nature Isle of the Caribbean", "French Dominica" and "Wai'tu kubuli" in local dialect, which means "Tall is her body." Located over the Caribbean Sea, Dominica is basically a mountainous island of volcanic origin of the Lesser Antilles. Spread approximately over an area of 751 square kilometers (290 square miles), Dominica frequently experiences geothermal-volcanic activity.
Officially registered as the Commonwealth of Dominica, this island was claimed by Britain and France until 1763, when it was formally ceded to Britain. Dominica became a crown colony in 1896 and for a decade in twentieth century remained part of West Indies Federation. Dominica finally achieved independence in 1978. Today, tourism and agriculture is the mainstay of the economy of this Caribbean island nation.