SANTIAGO


Santiago is a modern metropolis and one of the most shining destinations of Latin America. This capital city of Chile is hot in true sense, the sultry climatic condition complements the boming economic opportunities and steaming enthusiasm of the city populace. Situated on an inland plain with the Andes mountain ranges glimmering in the background, Santiago is a reveller's paradise. The Mapocho river splits the city wide open from the central region and further augments it's natural beauty. Santiago's economy has grown from strength to strength right from its inception in 1541 when Pedro de Valdivia fouded the city.
Santiago streches its importance from being the central part of the Santiago Metropolitan Region to the fifth largest city in South America. Today the city premises shelters nearly 5.96 million people that accounts for approximately 35.2% of the total population of Chile. The neighbourhood of Santiago is a bizzare mix of middleclass houses amidst luxurious hotels. Many multinational companies have camped their headquarters in Santiago and correspondingly sleek accommodations have sprung up round the city.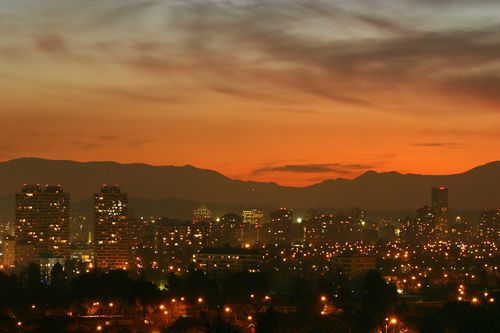 Dusk in Santiago
The boulvard of Avenida Libertador Bernardo O'Higgins or Alameda, as known to Santiagans is the major attraction of the city. Tourists prefer to stay at one of the bed and breakfasts or take any affordable apartment for rent around this beautiful promenade. The reason for this kind of fascination is that within this area, one can find all the major museums, monuments, and architectural sights that the city offers.The city's major places of interests include the Plaza de Armas, the Parque Forestal, the Museo de Bellas Artes and many more sites that depict the remnants of European heritage. Backpackers often put up in one of the comfortable but reasonable hostels of Santiago and roam about in the exclusive suburbs of the city. An excellent transportation system combining airports, bus service, taxi cabs and metro services make things easier for visitors.