VANCOUVER


Vancouver is more or less a pilgrimage for film lovers and admirers all round the world. Here in this western Canadian city lies the largest number of movie production houses after Hollywood and New York. It is situated in the province of British Columbia by the Burrard Inlet of the Strait of Georgia and opposite to Vancouver Island. The city is more famous as a busy Pacific coast and the central point of the third largest metropolitan area in Canada. The best part of the city is that it has preserved its natural beauty along side its huge urban development and economic progression. Hotels, restaurants, pubs and bed and breakfasts have sprung up all over the city to support the thriving tourism industry.
Vancouver Downtown by night
Geographically, Vancouver is enriched by water on three sides and is nestled alongside the Coast Mountain Range. This makes Vancouver home to spectacular natural scenery that is complemented by one of the mildest climates in Canada. This Canadian city supports a wide range of destination sites that ranges from more than 190 parks to three different civic theatres. North America's largest urban parks, Stanley Park is located in this city. The residents of Vancouver often let their apartments for rents and provide nearly all the facilities available in city hotels. Several private accommodations have been transformed into hostels to pull in the youth crowd and backpackers. All the places of interests of the city are well connected by a comprehensive transportation system. Demographically, Vancouver has become increasingly diverse with large number of Asian communities dominating the city population count. The Chinese population of Vancouver's Chinatown is second only to San Francisco's. The city's skyline maintains an uniformity with most buildings standing at a height of around 90m-130m, with the tallest skyscrapers around 150 m tall. Vancouver is also home to the Canucks or the National Hockey League and the Lions or Canadian Football League.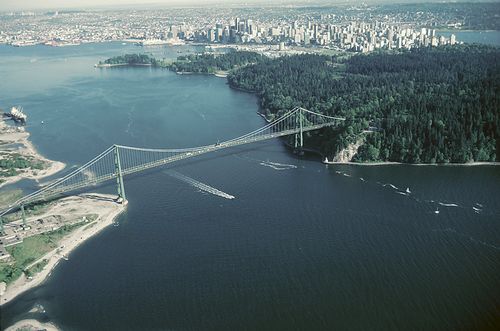 Lions Gate Bridge
Science World
Canada Place
Vancouver Skyline