TORONTO

Toronto is a perfect symbol of global culture with an ultra modern set up. This jazzy reputation was further solidified by a report of the United Nations Development Programme (UNDP) that ranked Toronto second, behind Miami, in its list of world cities with the largest percentage of foreign-born population. The city is situated in the Canadian province of Ontario and is the largest city in the country. The fast paced life style and quick adaptability of the city has made it one of the fastest-changing cities in North America. Towering administrative buildings, stylish hotels, elegant public accommodations create the versatile landscape of Toronto.
Toronto is one of the southernmost cities in Canada and is home to more than hundred different cultures. As the capital of Ontario, Toronto is the seat of government for Canada's most populous province. In addition to the official languages of English and French, the other languages that are heavily heard and spoken in Toronto are Chinese, Italian, Tamil, Portuguese and Spanish. The Lake Ontario lends the city its required picturesque feature and also helps in moderating the city temperatures.
Toronto bed and breakfasts and hostels experience a good business turnover, as it is an important commercial, financial, and industrial hub. It also houses Canada's major banking and stock-exchange centres. Industrially, the city is well-developed as Ontario's wealth of raw materials and hydroelectric power make Toronto an industrial powerhouse. Another prominent aspect of Toronto is its educational sector. The University of Toronto is the largest higher educational institute in the country that boasts of a student population of more than half a million. The student community usually resides at the 'apartments for rent' and aggravates the cultural buzz of the city. The Torontonians live and breathe music and the city shelters internationally-recognised the Royal Conservatory of Music and its associated Glenn Gould School.
| | |
| --- | --- |
| CN Tower | Flatiron Building |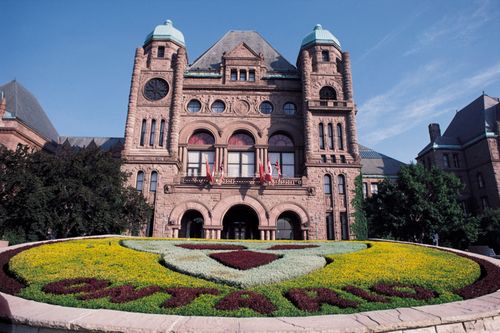 Legislative Assembly of Ontario
Toronto Skyline At night
Night Scene in Toronto