LJUBLJANA


Ljubljana, despite being a prominent city of Europe, restores a small town charm amidst all the projections of modernisation. Situated by the river Sava, Ljubljana is the capital city of Slovenia. The city houses the centre of Roman Catholic archiepiscopal sect and the Slovene Academy of Arts and Sciences. The later attracts art lovers, especially, students to the Slovenian grounds in quest of ancient culture. The city hostels are teeming with this pupil tribe all round the year.
Known as Emona in Roman times, Ljubljana is located at a global position of 46.03°N, 14.30°E and 298 meters above sea level. From historic times the city has maintained its central status starting from the time of the Hapsburg rule. At the meeting point of the cultures of the east and the west, Ljubljana welcomes in visitors from all cornets of the globe and provides comfortable accommodation options too. The city is home to the Roman town of Emona, the Old Town with its medieval castles and remains of the Renaissance and Baroque facades. Have a closer look at the ornamented portals and uneven roofs of the structures if you lodge in to one of the ancient buildings that have been converted into a cosy hotel or bed and breakfast.
Ljubljanica River in the city center
Ljubljana is a city of culture, home of many theatres, museums and galleries and it also boasts one of the oldest philharmonic academies in the world. More then 10,000 cultural events take place in the Slovene capital – top quality musical, theatre and fine arts performers as well as alternative and avant-garde performers – which can be discovered in 14 international festivals. In the warmer months of the year numerous cafes and restaurants move outdoors, and many owners let their apartments for rent to make booty out of the flood of tourists. Famous artists from all over the world visit it because of its creative spirit, economists because of numerous business meetings and fairs and international experts because of conferences.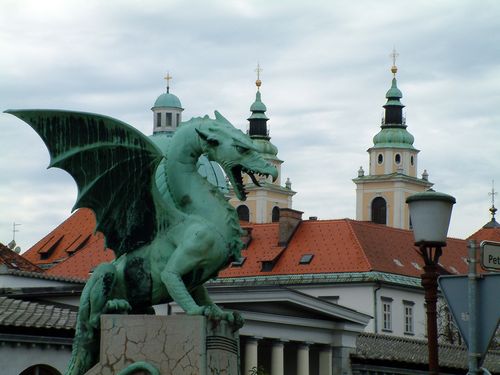 Dragon Bridge